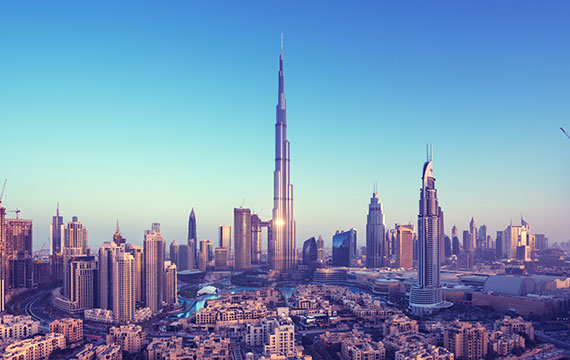 The UAE is the most cosmopolitan and Westernised country in the Middle East. While Dubai is the bustling centre for the Gulf, both commercially and as a holiday destination, the region as a whole has a lot to offer in terms of lifestyle and career development.
With its long history of political and social stability, a large, highly-educated, multilingual and multicultural workforce of skilled professionals has chosen to put down roots here. The UAE has an un-bureaucratic approach to business, with some of the best tax and financial incentives on offer anywhere in the world. The sophisticated lifestyle and safe living conditions also make it popular with business executives and their families.
One of the major differences living in the UAE is the restriction on alcohol. Generally, only hotels have licenses to sell alcohol, so you are likely to find that the majority of bars, restaurants and clubs aimed at Westerners will be attached to hotels.
The month of Ramadan is a feature of life in the Middle East. During this month, eating, drinking and smoking are not permitted in public, from sunrise to sunset. This is strictly adhered to and even as a non-Muslim it is unacceptable to partake in any of the above.
While drinking might be frowned upon, shopaholics are more than welcome in the UAE; it's a retail paradise with breathtaking malls and department stores, selling everything from Blu-ray players to designer clothes, all tax free.
For the sports lover there are championship golf courses and opportunities to try your hand at fishing, horse riding, water sports, skating and even skiing. Dubai is world famous for its horse racing, but don't forget that gambling is illegal. Desert driving is also popular – what could be more exciting than taking a 4-wheel drive over the sand dunes?
Budding socialites will be at home among the thriving expat community; relax around the pool at one of the social clubs or sample the cuisine at restaurants serving Arabic, European, American and Asian cuisine. If you're feeling particularly resilient, there is a handful of bars that stay open until 3 a.m.
​Taxes
The UAE does not have any federal income tax on wages or salaries. Each emirate can impose income taxes but none do.
​Visas
Except for UAE and GCC national citizens, other nationalities must obtain a UAE residence visa to legally live in Abu Dhabi, Dubai, and other emirates. For many expats, the company that employs them will sponsor them for a UAE residence visa, along with a labour card or work permit. But not always. A residence visa is required to open a bank account, obtain a driving licence, register a car, and apply for a PO Box, and so on. There are several ways in which a residence visa can be obtained.
​Life in the UAE
Life in UAE means enjoying amenities which some expats may not have in their home countries. The mobile phone system is excellent, and many of the modern buildings are equipped with air conditioning. All these things make for a comfortable life in the UAE. Expats living in the UAE enjoy a subtropical climate, with balmy 30°C in winter and up to sweltering 50°C in summer.
Newspapers, radio stations and TV broadcasters are available in Arabic, English, Urdu and several other languages to cater to the needs of expats living in the UAE.
Despite its progressive flair, modern infrastructure and booming economy, religious traditions are an essential aspect of life in the UAE. For expats, life in the UAE thus means that they may have to adhere to a different etiquette, dress more modestly and deal with some limitations in their daily lives.
It is advisable for expats living in the UAE to be sensitive and respectful towards religious traditions. Ramadan, the Muslim month of fasting and one of the five pillars of Islam, is taken very seriously in the Emirates. Non-Muslims living in the UAE may be surprised when they experience reduced office hours, closed restaurants and other disruptions of their daily routine during Ramadan.
The rich traditions of the Emirates are a big part of life in the UAE. Not all traditions are still practiced today. However, the country remains proud of its history of fishing, boating and trading, which used to dominate life in the UAE for centuries.
The souqs, traditional markets which were once the centre of life in the UAE, are an essential place to visit. Many of them have been preserved in their original state, giving a picturesque impression of what life in the UAE used to be like. Dates, camels, Arabian horses and falconry are still important aspects of life in the UAE today.
​Medical
We recommend that you be covered for healthcare at all times. There are a number of international companies that specialize in private health insurance – comprehensive, regional cover costs around £35 per month. Long waiting lists are almost unheard of, with every city and major town having at least one or several modern hospital.
​Banks
Several of the world's leading banks and their subsidiaries have branches in the UAE. Setting up an account is easy, as is transferring money home. You'll be given a cash card to withdraw money from ATM machines and credit cards are accepted throughout the country.
​Housing
In the UAE, expats can opt to buy or rent. A variety of accommodation is available, from unfurnished apartments to fully furnished villas. Many apartment blocks include facilities such as satellite TV, a swimming pool, tennis courts and covered parking. Self-contained compound villas are common and many retain staff.
Rental and property prices have increased a lot in recent years, but have now been capped to prevent things getting out of hand. To find an accommodation, contact real estate agents, scour the newspapers or ask friends and colleagues.
​Travel
Dubai International airport is 5km south-east of Dubai and is a major hub at the crossroads between Europe and Asia. Gulf Air, British Airways, Emirates, Lufthansa and KLM regularly fly in and out of Dubai.
You'll need to acquire an International Driving Permit before entering the country. Many people purchase a car for the duration of their stay. A word of caution: when driving on the main roads, the junction numbers are often not in numerical order!
Public buses are clean and cheap, but infrequent. The bus system is most useful for getting between different areas of central Dubai, or between the various suburbs.
Alternative transportation is essentially limited to taxis, which are metered, although you might discover the meter is 'broken' and you have to haggle.
The RTA (Roads Transport Authority) has embarked on an ambitious project to introduce a Metro Rail system. The first phase has been completed by late 2009 and there will eventually be a network of 6 metro lines In the future.
Cost of Living
The overall cost of living in the UAE is comparable to that in the majority of European countries.Dubai, Gulf, UAE, UAE Banks, UAE Cost Of Living, UAE Housing, UAE Medical, UAE Taxes, UAE Travel, UAE Visas