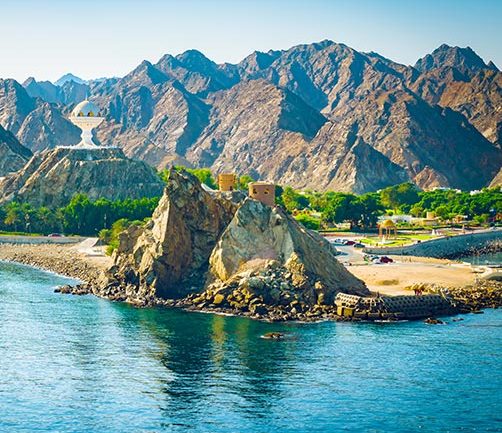 Unlike the oil giants of the Gulf region, Oman chose to exploit its petroleum reserves carefully. The result of such strategy is stable economic situation of the country and balance between its culture and modernity. It's a place where you can find both traditional markets or incense farms and luxurious hotels or shopping centers. Oman is also a perfect place for nature admirers as there is sea with beautiful sandy beaches, stunning deserts and mountains.
Oman has always been open to traders and travelers thus Arabic Muslim majority coexists easily with minorities from India, Pakistan and other Asian countries and with noticeable expat population, mostly from UK, USA, Canada and Australia. Although Arabic is the official language of the country, English is also very common – all signposts, shop signs, menus in the restaurants etc. are available in the two languages.
One of the major differences in living in Oman is the restriction on alcohol. Generally, only hotels have licenses to sell alcohol, so you are likely to find there the majority of bars and clubs dedicated to Westerners. Non-Muslim residents are allowed to buy alcohol after obtaining a permit for it on the police.
It is quite easy to make friends with other expats in Oman, as there are many expat social clubs to join. Expats are in abundance even in the rural areas, and one can easily get involved in group trips or outdoor pursuits. Muscat is not far from some of the smaller towns and cities and there are many Western shopping malls, bars and activities to engage in should one feel homesick.
Taxes
Expats will find the cost of living in Oman more reasonable than that of many of the neighboring Gulf Cooperation Council (GCC) countries, and income is generally tax-free. Prices are highest in Muscat, but although costs can be lower outside of the city, choice is also more limited.
Visas
In order to work in Oman expats have to be sponsored by an employer, which can leave people feeling tied to their employers. If leaving the company, a work visa will be cancelled and one will have to go through the hassle of getting a new residence permit.
The procedure for sponsoring a foreign worker to work in an Omani company rests mostly on the employer, who must obtain several documents if they are to remain an employee for an extended duration. The employer must acquire an employment visa for entry into Oman, a resident card to remain in the country and a residence permit. In Oman.
Life in Oman
Life in Oman means enjoying amenities which some expats may not have in their home countries. The mobile phone and Internet system is excellent (except for deserts and mountains) and many of the modern buildings are equipped with air conditioning. Expats living in Oman may enjoy subtropical climate with temperatures ranging from 25°C in the winter to 40°C in the summer with remarkable air humidity in the coast area.
Newspapers, Radio stations and TV broadcasters are available in Arabic, English and a few other languages to cater to the needs of expats living in Oman.
Despite its progressive flair, modern infrastructure and booming economy, religious traditions are an essential aspect of life in Oman. Thus living in the country may mean for expats having to adhere to a different etiquette, dress more modestly and deal with some limitations in their daily lives.
Although Oman is one of the more liberal countries in the Gulf, it's still a Muslim country and one should respect and follow its customs and cultural practices. It is advisable for expats to be sensitive and respectful towards religious traditions.
Displaying affection in public is not illegal, but it is frowned upon. It's also not permitted to shake the hand of an Omani woman.
Westerners should attempt to dress appropriately. Men can wear shorts but they should extend to the knees. Similarly, women should make sure their knees and shoulders are covered.
Healthcare
Healthcare in Oman is available through public and private providers. It is free only for nationals. And, therefore, with the exception of emergency care in government hospitals, expats must pay for health services and medications.
Employers in Oman are not obliged to provide medical cover to expat employees. However the healthcare coverage is often provided by them as a benefit.
Banks
Oman is primarily a cash-based society, with a general distrust for cheques and an aversion to using credit cards for anything but very large purchases.
Along with the Central Bank of Oman, trustworthy local banks include Bank Dhofar, Bank Muscat, National Bank of Oman and Oman Arab Bank. There are also a host of foreign banks with branches in Oman. Many of these offer multilingual services, and expats are advised to look to one of these institutions when opening an account.
Another option is for expats to open an international (multi-currency) account for use in Oman through a bank in their country of origin. International accounts can be opened before leaving home and will provide access to a wide range of international banking services, such as high-interest savings options and online money transfer services. Many expats report that they prefer the convenience and security of having their finances centralized in this way.
Housing
If arriving in Oman on a full expat package, accommodation is usually included in the employment contract. Some companies provide a cash allowance to spend on rent, let an expat choose a property and even liaise directly with the landlord to make the payment on the expat's behalf. Muscat is a relatively small city, so it's possible to drive from one side to the other in 40 minutes. This allows expats to seek cheaper accommodation beyond the city centre.
There has been a growth in residential development in recent years and expats looking for accommodation in Oman will have a variety of options to choose from.
Most expat accommodation in Oman is in the form of apartments, standalone villas or townhouses, often within a secure housing compound. Most homes are new and well maintained, although there have been complaints of poor construction standards and neglectful landlords.
Travel
Muscat International Airport is located within the Muscat metropolitan area, 32 km from the capital and covers flights to several local destinations as well as international to Africa, Asia and Europe.
Public transport in Oman is available, but not very popular aside from taxis (which are cheap, but one has to haggle over the price) and baizas (small buses).
Since the sultanate does not have a railway network yet and the distances are so long, most people prefer to travel by car. Compared to the West, fuel and cars are quite cheap in Oman. In the long run, purchasing a vehicle can be much more economical than using public transportation.
Due to the popularity of cars, Omani towns and cities are not pedestrian friendly.
Cost of Living
The cost of living in Oman varies, depending on whether one is in the bigger cities or the smaller rural towns. As a rule, the cost of living is higher in Muscat than neighboring regions, but salaries are adjusted to account for this. Eating Asian and Omani food can be extremely cheap, whereas eating Western food can often be extremely expensive, as is drinking alcohol. Western clothing brands, electronic goods and furniture can often be expensive as well.Gulf, Oman, Oman Banks, Oman Cost Of Living, Oman Healthcare, Oman Travel