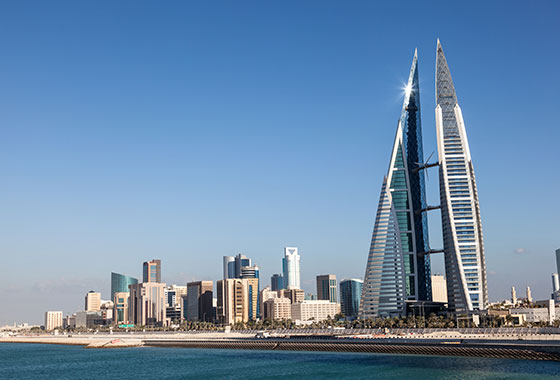 With its strategic location in the Northern Persian Gulf, a good infrastructure and a highly educated and skilled workforce, Bahrain has a successful history of business in the region.
The government has devised several strategies to make investing and working in Bahrain attractive to foreigners. Not only does it offer a liberal business environment and low operational costs to those working in Bahrain, but it also vies for 1st place in the Middle East in terms of quality of life.
For a long time, Bahrain's economy depended purely on oil. While oil is still the major driver behind Bahrain's economy, there have been increased efforts to move away from this dependency. Today, people working in Bahrain form part of one of the most diverse economies in the region.
However, the industrial sector still accounts for about 57% of the GDP, employing nearly 80 % of those working in Bahrain. Declining oil reserves have shifted the emphasis towards petroleum-processing and oil-refining, with the production and export of aluminium following close behind. The construction and ship-repairing industries are also major employers of many residents working in Bahrain.
Bahrain has established itself as a center for Islamic banking and for finance in general. Nearly 200 international financial institutions and banks are represented in the country, responsible for a considerable share of expats working in Bahrain.
​Taxes
Bahrain has the lowest tax jurisdiction within the region, offering a level platform nationally and not just within specific and regulated ring-fenced 'free zones'. There is no personal income tax.
​Visas
To obtain a driving licence, bank account or health insurance you need a Residence Visa. Your employer will act as your sponsor during your stay and it will be their responsibility to organise your Residence Visa.
​Life in Bahrain
Most Bahraini women follow the Arab Muslim custom of covering the entire body from head to toe when they go outside their houses. Foreign women in Bahrain can wear conservative western style clothes, but it is considered improper for them to show their legs and shoulders in public and they will be thought of badly. Inside her home a Bahraini woman might wear western clothing.
Bahraini men wear a long cotton robe that comes down to the ankles. There is a traditional head covering that men wear, a white or checkered cloth tied on with a rope. Men always shake hands when meeting one another, usually followed by a good amount of small talk concerning each other's families. This is an important ritual in most Middle Eastern countries.
People from all corners of the world have been moving to Bahrain for centuries now. Although there are tendencies in Bahraini politics to limit jobs open to expats in order to combat unemployment among young Bahrainis, the current trend of foreigners moving to Bahrain to fill managerial positions is set to continue at least for a little while. A lot of sightseeing, clubs, art & heritage, recreation, water sports, golf, Formula 1.
​Medical
Basic modern medical care and medicines are available in several hospitals and health centers in Bahrain. We recommend that you be covered for healthcare at all times. There are a number of international companies that specialise in private health insurance – comprehensive, regional cover costs around £35 per month. Long waiting lists are almost unheard of, with every city and major town having at least one modern hospital.
​Banks
Several of the world's leading banks and their subsidiaries have branches in Bahrain. A number of foreign banks, including the British Bank of the Middle East, Citibank and Standard Chartered have a major presence here. Setting up an account is easy, as is transferring money home. You can open a savings or deposit (there are many types available) account with any retail bank in Bahrain.Many banks will allow you to open savings accounts in major currencies (mainly the US$ and GBP).
The national currency is the Bahraini dinar (BD) and is linked to the US dollar and hence susceptible to fluctuations.
Housing
In Bahrain expats only have the option to rent. Finding rental is not difficult. Most rentals will be unfurnished, but might include kitchen equipment such as a fridge, and free satellite access, including CNN and BBC. Rents start at around $750 per month for a one bedroom apartment. A furnished apartment is about 25 percent more expensive, and a serviced apartment – including cleaning, linen, and laundry service – is 30 percent more expensive than an un-serviced one. Air conditioning may or may not be included. A long term lease will be for a year, while short term leases are in months. An expat will need to have their work sponsor also sign their rental lease.
​Travel
Bahrain International Airport is a major air traffic hub in the Middle East with frequent connections to regional and international destinations. It is located on a small peninsular off the northwestern tip of the main island, right opposite Manama and within easy reach of the capital via two causeways.
Expats living on Bahrain's main island benefits from an excellent road network and good bus connections, especially in the capital Manama. All the main islands are connected by bridges, and there is a causeway from Umm to Saudi Arabia. However, some of the smaller islands can only be reached by boat.
​Cost of Living
Bahrain offers the best value for money- it has the lowest living costs within the region and operating costs for businesses. As in all locations, cost of living can vary tremendously depending on the lifestyle one chooses to lead, and salary can be high or low in proportion to an expat's nationality, experience and academic qualification.
Bahrain, Bahrain Banks, Bahrain Cost Of Living, Bahrain Housing, Bahrain Medical, Bahrain Taxes, Bahrain Travel, Bahrain Visas, Gulf